S. Sgt. Roy E. Jones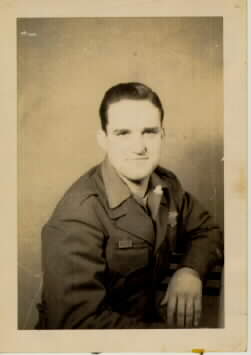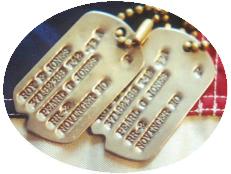 Service Ribbons from Dad's Uniform

Service Timeline
29-Apr-42: Entered the service at Jefferson Barracks, Mo.
1-Jan-44: Departed the United States
9-Jan-44: Arrived in the AMETO(African Middle Eastern Theater Operations)
11-May-44: Operation Diadem to liberate Rome begins
12-May to 16-May-44: Battle for Hills 66 & Hill 69. Company C receives
Presidential Unit Citation
5-Jun-44: 337th Entered Rome
14-Jun-44: Promoted to Staff Seargent
15-Jun to 17-Jun 44 On Leave to 5th Army Rest Center in Rome
9-Oct-44: Wounded in Italy and moved to 94th Evac Hospital
22-Oct-44: Moved to 24th General Hospital (near Naples)
16-Dec-44: Returned to Company C from the 24th Gen. Hospital
2-May-45: German Surrender in Italy. Company C ends the war near Belluno, Italy
30-Jun-45: Assigned to 52nd Quartermaster Battalion
5-July-45: Assigned to 3333rd QM Truck Company
10-Sept-45: Transferred to 21st General Hospital for shipment to US
25-Sep-45: Transferred to 7th Replacement Depot for shipment to US. Departed Italy
12-Oct-45: Arrived in USA
20-Oct-45: Completed separation from Army - "3 Years, 5 months, 22 days!"
Campaigns
Rome-Arno
Northern Appennines
Po Valley
Citations
Presidential Unit Citation
Awarded Bronze Star Medal GO 50 HQ85 Inf 15-Jun-44
Awarded Purple Heart GO 70 Hq 337 Inf 17-Oct-44
Awarded 3 bronze campaign stars for above campaigns per WDGO 33-40 1945.
Good Conduct Medal
Rifle Marksman 3 Dec 43
Combat Infantryman Badge GO 23 HQ 377 Inf 25 Jun 44

Presidential Unit Citation

VII. Citation of Units Under the provisions of Section IV, Circular Number 333, War Department, 1943, the following-named organizations are cited for outstanding performance of duty in action, and are awarded citation streamers therefor. Individuals assigned or attached to these units are entitled to wear the Distinguished Unit Badge to identify such citation.
COMPANY C, 337TH INFANTRY REGIMENT is cited for outstanding performance of duty in action, from 12 to 16 May 1944, near Tremensuoli, Italy.
COMPANY C participated in a battalion attack on a strategically important hill which was a corps objective. Prior to this attack another battalion attempted to take the objective, but suffered heavy casualties and was unable to hold the hill. Advancing through intense and concentrated artillery and mortar fire which halted two companies of the battalion, COMPANY C relentlessly pressed forward, and two platoons succeeded in reaching the crest of a hill in the route of advance toward the objective. Enemy artillery and mortar fire became more deadly, and in addition, small arms fire was brought to bear on these two platoons. With the left flank of the company unsupported, it was necessary to spread out the few available men in order to continue the forward push. Reaching the crest after suffering heavy casualties, COMPANY C was subjected to fierce enemy counterattacks. Surrounded on three sides, the company received heavy and continuous machine gun and small arms fire from strong enemy forces. With only eighteen men and remnants of two other companies and with no heavy weapons support, the courageous infantrymen of COMPANY C held their positions against determined enemy attempts to recapture the hill. On the night of 13 May, relief arrived in the form of replacements, and a final enemy assault was repulsed successfully. Pressure was relieved by units attacking on both flanks of the hill position, and COMPANY C was able to give supporting fire to both attacking elements. The indomitable fighting spirit and fortitude of the infantrymen of COMPANY C reflect the finest traditions of the Army of United States.
Return to Service Timeline
Bronze Star
Excerpt from General Order 50, Headquarters 85th Infantry Division 15 June 1945:
SECTION II

AWARD OF BRONZE STAR MEDAL

Under the provisions of AR 600-45, as amended, a Bronze Star Medal is awarded to the following officers and enlisted men:

ROY E JONES (37182388), Staff Seargeant, Infantry, Company "C", 337th Infantry Regiment, United States Army. For heroic achievement in action on 20 April 1945 , in Italy. Entered the military service from Novinger, Missouri.

Combat Infantryman Badge
Excerpt from General Order 23, Headquaters 337th Infantry, 25 May 1944:
1. In accordance with par 3b, War Department Circular Number 269, 27 October 1943 and par 8a, NATOUSA Circular Number 26, 6 March 1944, the Combat Infantryman Badge is awarded the following:
...
ROY E JONES, 37182388, Seargeant, Infantry, Company "C",Italy, 25 May 1944. Entered service from Novinger, Missouri

Purple Heart
Excerpt from General Order 70, Headquarters 337th Infantry, 17 October 1944
1. Under the provisions of Army Regulation 600-45, dated 22 September 1943, the Purple Heart is awarded to the following for wounds received in action against the enemy:
...
ROY E JONES, 37182388, Staff Seargeant, Company "C",Italy. 9 October 1944. Entered service from Novinger, Missouri.